To all applicants for shogaku shugyo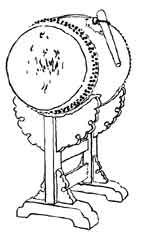 :
1. Time / date: Shogaku shugyo always begins on a Thursday at 18:00, continuing Friday and Saturday, through early Sunday evening.
2. Location: Ichikukai Dojo
3-4-10 Maesawa
Higashi Kurume-shi
Tokyo, 203-0032
3. Fee:16,600 yen
Fee consists of:
Admission fee: 10,000 yen
Shugyo fee: 5,000 yen
Meal fee: 1,600yen or 8 meals' worth of rice (200 yen per meal x 8 meals)
(those opting to pay with rice: please bring something for the party)
4. What to bring: One misogi shugyo uniform (Karate, judo uniforms are also acceptable. Hakamas will be provided.), white belt, underwear (bring extra; you will sweat), pajamas, a towel, toiletries, health insurance card / documentation for use in case of emergency.
5. Health: Shogaku shugyo involves physical exertion roughly equivalent to jogging. Those with heart conditions should make this clear well in advance of training. In all cases, please attend shogaku shugyo only when you are in good health.
6. Note: No meals will be served on Thursday, so please have dinner before arriving at the dojo at 18:00.